Calculating the weight of your tiny house build:
Today I was reminded of the importance of calculating the weight of your tiny house-before you build. A participant of a Facebook page I am a member of was asking for suggestions on how to cut down the weight of her almost finished THOW. They had already maxed out the trailer weight and hadn't yet finished the interior.
This is a serious problem with no easy fixes at this point. It shows the glaring importance of pre-engineering the project which from her story had not been done. By watching YouTube videos and TV shows you get the impression that you only need to grab some nails, wood, and  hammer, bang it together and yer done. But that is actually a recipe for disaster.
Calculating the weight of your tiny house before hand might be a daunting, even insurmountable task but must be done. You can't even think about what kind of trailer to start with if you don't know the weight of the load it will need to bear.
Trailers are designed with a maximum load limit.  The axles and frame can only handle a certain amount of weight. Going overweight will have dangerous consequences.  Trailers have actually broken under the tiny house. Here is a link to an overweight tiny house nightmare.
You need to calculate the weight before you even by your trailer. Design software like SketchUp® can help. Buying an already designed tiny home plan can also help.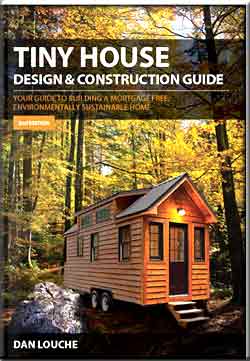 Design and Engineering a safe THOW
Other design considerations for a THOW are weight distribution, towing stresses, snow load, and even seismic impact. Designing a safe tiny house on wheels is actually more complex than a standard house on a foundation.
Engineers and architects don't go to school for years for nothing. They learn to consider all aspects of the design against the finished product. Current building codes for houses do not address the design requirements of a tiny house on wheels.
So how is the average person with only basic building skills supposed to build a safe structure?
Good question. Here are some alternatives:
Buy Dan Louche's book, Tiny House Design & Construction Guide  (shown here) for the best advice for doing it yourself.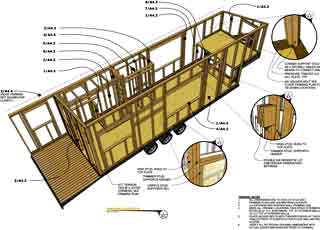 for a tiny house is a good option. Basic plans can be relatively
inexpensive. These plans can be generally modified to your specific needs and still fall within a safe envelope. Many of the architects will be happy to do the modifications for you and provide you a detailed analysis of the structures properties. They will also give you an idea of the costs involved.
You can attend a hands-on workshop or watch a great video series of workshops on YouTube®. An "eWorkshop"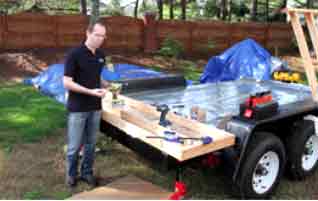 allows you to learn at your own pace for as long as you need, all without the costs of traveling. If you are craving the hands-on experience these weekly workshops are offered around the country. The instructors take groups of people like yourselves thru the build process. Exclusive discounts on book, plans, eWorkshop and trailers are also offered to workshop attendees.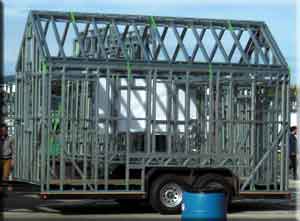 Having the folks at Volstrukt design and build the frame and shell is an even better idea. They use steel framing which is far lighter and stronger than other framing material. They will build the structure as far thru the process as you need them to adding exteriors, window, electrical, and plumbing if you want.
You can have one custom built, buy a stock unit from a tiny house builder, or buy a used one.
Having a tiny home custom built is by far the most expensive option. It may be cost prohibitive for some. Usually, however, a professional builder or seller will have financing and insurance available. These homes are well built and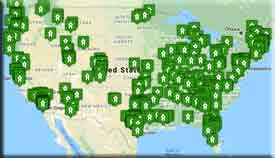 already certified.
Since the modern tiny home has gained popularity there are many used ones for sale. At Tiny House Marketplace you can browse a map to determine if the tiny house for sale is in a place you might like to live. What a great idea. The great thing about THOW's is you can always move them.
Here is a link to my website page that deal with moving a tiny home safely.