Auxiliary Dwelling Units
Auxiliary Dwelling Units also know as "Granny Pods", Backyard Cottages,  "In-Law Suites", even "Failure To Launch Pad" can be built above a garage or placed anywhere in the yard of an existing home that is convenient. It is a great way to add rental income or provide a separate dwelling for and aging parent.
Auxiliary Dwelling Units are a great way to create additional housing because they tap into the properties existing utilities.
Specialty ADU's
Many companies have designed ADU's for those with special medical needs.  "Granny Pods" allow elderly parents to live comfortably in a backyard cottage with all the advantages of a nursing home. Safety features can include extra handrails, lighted floor boards, defibrillators, and padded floors to prevent injury from falls. Also known as "Med Cottages" these tiny homes can be prefabricated and designed to fit into your backyard. State-of-the-art technology allows the occupants of the main house to monitor the aging parent in the tiny home while maintaining the privacy and feeling of independence of the parent.
https://accessorydwellings.org/ -put link to page and comment on this site.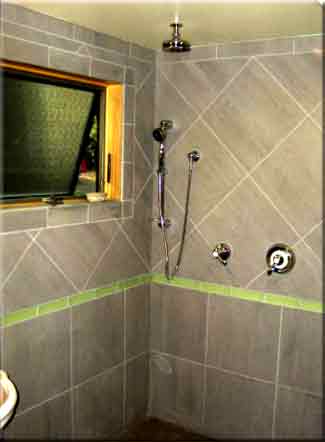 The American Tiny House Association has a great website showing the regulations from many different towns. More formally called "Accessory
Dwelling Units" are already allowed. Having a THOW (Tiny House On Wheels) might be slightly more challenging. Placing the THOW on a foundation goes a long way in placating the building code officers.
Accessory Dwellings is a good blog for checking out what others have done for ADU's. The picture shows the shower in Deborah Kelly's Granny Pod that is Wheelchair accessible. Notice the adjustable height shower head too. This is good if you are sitting or standing. It pops off the bar for hand held use.
The "Failure To Launch" Pad
Just a silly take on the movie, this is what I call Auxiliary Dwelling Units meant for the adult kids who haven't been able to leave home yet. It is an economical stepping stone to independence without a lot of dept. If they are married with kids it's a great way to keep the grand-kids close at hand. Just sayin.
Aid Accessories for Active Healthy Living
One Cup Mini Coffee Maker
Perfect for coffee, tea, hot chocolate and more!
This compact unit brews directly into your mug (and it fits a variety of mug sizes). Coffee maker has a water level window, illuminated on/off switch and includes a permanent nylon filter (no paper filters required!).
Bonus mug included! Click on Image to order.
Red Walker Tray
Safely and easily carry food items, books, crafts, and more–right on your walker!
Heavy-duty plastic tray in bright, stimulating red fits securely on side bars of any standard walker without interfering with hand grips.
Featuring 2 recessed cup holders and raised edges to prevent items from sliding off, and allows you to focus on personal balance and safety. Click on Image to Order
Atomic Digital Day Date Wall Clock
Attractive clock features large, easy-to-see time and date, and sets itself automatically!
Adjustable display mode shows either spelled-out day of the week, time, and date, or abbreviated weekday & date with time and indoor temperature (°F or °C). Both options available in English or Spanish. Atomic function automatically sets time and date–and even resets for daylight savings time (with optional on/off)!
Wall-hanging or free-standing design with sleek, brushed-metal finish. Also features alarm with 10-min. snooze selectable LCD back-light modes. Click on image to order.