Different types of Tiny Houses:
The most common picture  conjured of a tiny house is a cute house like structure on a trailer. However, any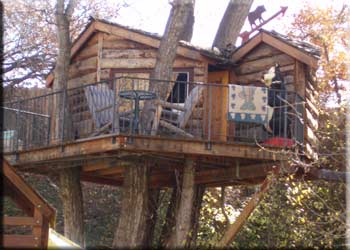 living space smaller than 500 sq. ft. is considered a tiny dwelling. This can include RV's, buses, park models, modular homes, even a converted garage, yurt or tree house.
There are distinctions and advantages to each depending on how they will be used.
An RV or travel trailer is a good choice for traveling, and (with special permitting) can also be used as a temporary abode while building a house.  Retirees have been doing the RV lifestyle for decades. RV's, however, are only approved as a part-time dwellings.

Surveys show that the average tiny home is moved less than three times in it's lifetime. Consider your situation. Will you be moving around a lot?  If not, a "Park Model" might be a good choice for you. Delivered, dropped into place, connected to utilities, and you're done. Park models do require a professional moving company but are not limited to eight feet wide. Sellers usually offer a good package deal that includes delivery. These cost as low as $23,000.00.
A tiny home on a trailer (under 10,000 lbs.) is traditionally limited to eight feet wide with the hope of not needing special permits for moving. But, states are now catching up to this ploy and do require permits no matter the size.
Still, the oft glorified tiny house on a trailer will always have a place in our dreams. What began as a do-it-yourselfer creating a really nice abode from scrap, on the cheap, has morphed into  professional companies with creations costing over 100K.  That definitely negates financial savings as a reason to go tiny.
Other tiny house types:
We will discuss other tiny house types in the future as time permits. These will include: Yurt's, Floating Homes, Tiny cabins, Auxiliary Dwelling Units (ADU), shipping containers,  modular homes and trailers. Mostly, tho, the website will concentrate on building your own basic tiny house on wheels.
From Amazon.com: "
Best-selling author and tiny house enthusiast Derek "Deek" Diedricksen profiles 40 tiny — but practical — houses that are equipped for full-time living, all in 400 square feet or less. Detailed photography and a floor plan for each structure highlight inventive space-saving design features along with the nuts-and-bolts details of heating, cooling, electric, and plumbing systems. The real-life stories of residents impart the pleasures, as well as the challenges, of day-to-day living. With tips on what to consider before you build, along with framing plans for a prototype small cabin, Micro Living is the perfect starter handbook for both dreamers and doers."
Click here to visit Humble Homes for eighteen inexpensive, yet detailed, tiny house construction plans.