Tiny Home Living Room Comfort
Tiny houses (on wheels) are a fine idea. They usually provide an awesome kitchen, adequate bathroom, and pretty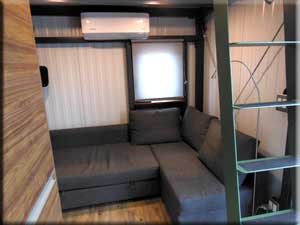 nice bedroom. However, most of them really fall down on the living room comfort.
When not cooking, sleeping, or taking a pee you will be spending most of your time in the living room. As the name reflects it is the room where you live. While tiny homes depend on outdoor living spaces to compensate for minimal indoor space you will need to spend time indoors on inclement weather days and at night.
Can you imagine spending hours "relaxing" on the typical bench seating shown in most Tiny's? I understand that the bench seat is used to hide the wheel well and provide desperately needed storage. They are also fairly easy for the DIY to construct and can convert into a spare bed. But let's think seriously about living room comfort.
Try spending two hours on a bench seat.
A typical movie on TV lasts just under two hours. Could you and your "significant other" be comfortable sitting on a bench seat? Even with a memory foam cushion it would be a stretch for me.
At my advanced age joints and muscles are getting achy. I need to settle my old bones into a recliner with a heating pad to be comfortable.
RV designers have learned that living rooms must be deluxe and Tiny Home designers should take a lesson. Upper-end RV's usually have a "bump-out" to increase the width of the living area and keep it from feeling cramped when the foot rest is swung open. I like this.  A "bump-out" does add a degree of complexity to the Tiny Home.  This might be beyond the skills of most do-it-yourselfers. Putting the recliner on the end of the structure, however, gives you plenty of space to swing up the foot rest.
You do not need to build your own sofa or recliner:
You do not have to be put off by thinking you need to build your own comfy seating. The recliner shown here costs about $400.00 from Amazon.  There are lots of sizes, styles, and price points.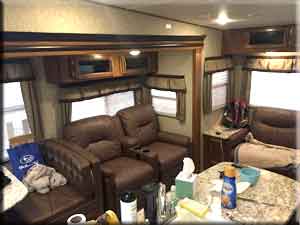 There are others ways to have comfy seating. Futons are not too bad, actually. They fold down into a bed, and you don't have to build them.
This will be the most important area of the home. Giving the living room comfort a little extra thought will bring a lot more satisfaction and comfort to living in a tiny home.